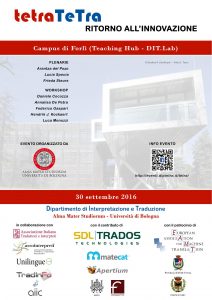 The tetraTeTra Conference will take place on Sept. 30 2016. Deadline for registration approaching.
tetraTeTra Conference: early bird has now closed but there is still time to register (until 26 September 2016)!
This year, our TeTra conference will open with four workshops held in parallel. Three software houses (MateCat, SDL Trados and TranslationQ/RevisionQ) will present their innovative tools, and Professor Federico Gaspari will hold a practical session on how to speed-up and improve MT post-editing. View the full workshop descriptions here.
The main conference plenary talks will be given by three internationally-renowned speakers. Frieda Steurs is going to discuss new trends in the language industry, with a special focus on terminology management and collaborative solutions. Arantza Del Pozo will lead us into the world of multilingual automatic subtitling. Her talk focuses on how machine translation and speech recognition can be used to boost productivity. Finally, Lucia Specia will deal with the big issue of machine translation (MT): she will present us with success stories involving MT, discuss its current limitations, and outline future directions. View the conference programme here.
Note that some of our workshops are already fully-booked. Register now!