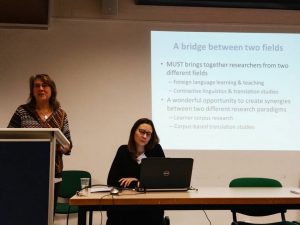 The Department of Interpreting and Translation (DIT) is about to embark on a new international corpus collection initiative: the MUST (Multilingual Student Translation) project, led by Sylviane Granger and Marie-Aude Lefer (Centre for English Corpus Linguistics, Université catholique de Louvain) aims to collect a large multilingual corpus of translations produced by intermediate and/or advanced foreign language learners and trainee translators. It is thus situated at the intersection of corpus-based translation studies and learner corpus research.
MUST follows in the footsteps of the pioneering EU-funded MeLLANGE project – to which the DIT actively contributed over a decade ago – and builds on some of its results to obtain new insights on the characteristics of learner translation. Accessing a multilingual learner translation corpus, for instance, will allow researchers and translation teachers to identify common errors and strategies in student translations, and possibly correlate them with factors such as the language of the source text, the use of specific translation tools or the translator's experience.
MUST's official kick-off meeting took place in Louvain-la-Neuve on 2-3 December 2016. It was a very successful event, with 37 researchers from 26 institutions in 13 different countries participating in the initial workshop, which was aimed at sharing previous experiences, fine-tuning objectives, and setting priorities for the first stages of the project. Some pictures from the workshop can be found on the CECL's Facebook page.
DIT students: starting from the second semester 2016/17, you might be asked to contribute to the project by consenting to include your anonymised translations into the corpus. Get ready to be part of this exciting initiative!