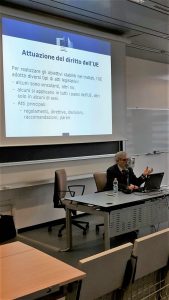 Many thanks to Italo Rubino for his lecture on institutional translation at the European Union. The EU is the only international organisation where each member state's language is an official language. Italo Rubino started his speech focusing on multilingualism as a form of democracy and equality between EU cultures and people.
This translates into a huge amount of work for internal and freelance translators (covering approx. 70% and 30% of translation services, respectively). In 2014, 2,300,000 pages were translated into 24 languages, with more than 506 language pairs. This is a huge amount of texts that need to be translated quickly, meeting tight deadlines and constantly keeping high quality levels. Since each language version of EU laws is legally binding, a quality programme has been put in place, including translation/revision workshops, a guide for translators, shared good practices, ex-post controls, collaboration with international experts (such as REI, the network for institutional Italian excellence) and even a personalised version of SDL Trados Studio to make the translation process more efficient.
At the end of the lecture, an interesting point was raised regarding the linguistic consequences in the post-Brexit EU: English will no longer be a EU language since Ireland and Malta have chosen a language other than English (i.e. Gaelic and Maltese). English as a lingua franca (ELF) is going to face a new challenge. Currently untied from its native environment, ELF is routinely used by European citizens in an international context and within the European institutions themselves. The talk concluded with a question that left participants wondering: "Will it continue to grow as a common language or will its development be stopped because of the British exit?