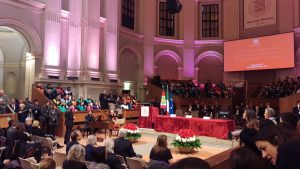 On Thursday 12 January 2017, the University of Bologna officially opened a series of meetings on the theme "Youth and research: the Alma Mater path to the future". A group of Professors, young researchers and PhD students from our Department attended the opening ceremony, which was held in the auditorium of Saint Lucia in the presence of the President of the Italian Republic Sergio Mattarella.
Rector Francesco Ubertini started his speech by recalling the origins of "Alma Mater" and its close connection with the city of Bologna. Young students and distinguished professors alike – including Torquato Tasso, Ulisse Aldrovandi and Giosuè Carducci, to name but a few – would walk around the narrow streets of the old town, talking about the current situation in Europe and around the world. On these occasions, ideas would be exchanged and would start to circulate, giving life to knowledge and research.
While firmly rooted in the past, Alma Mater looks at the future of new generations. The Rector expressed his pride for our University and its ability to maintain the highest quality levels in teaching and research, despite the well-known issues affecting the Italian University system and its recruiting mechanisms. The Rector stressed the excellent results of our University policies, thanks to which young people continue to be hired.
After receiving the Sigillum Magnum from Rector Ubertini, President Sergio Mattarella remarked that the University of Bologna has always played a vital role in the EU common development and the spreading of culture without borders, recognising that our University's contribution to society is the same today as it was more than nine hundred years ago.